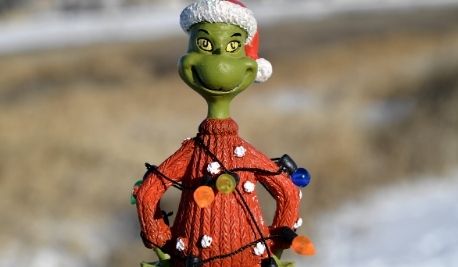 The Grinch that Stole 2020
Hello 2021, finally. I was really getting annoyed at 2020. You get used to the inevitable "happenings" caused by the pandemic, but I had finally had enough when one of my favorite stores closed, Pier 1. I would go there to get all things Ginger Peach. My candles, my diffuser oil, my car spray. I've been looking for weeks for a replacement fragrance, to no avail. This was the beginning of the end.

I used to go out to eat almost every Friday afternoon. I live in DC, as many of you know. U Street, H Street NE, and Downtown were my stomping grounds. For a while, I could tolerate the reduced numbers for eating in, but I miss the atmosphere, vibrancy, and ambiance. I did takeout, and yes, I could have had deliveries, but the restaurant and staff were not benefitting because of too many fees. Now, we are back to square one.

The final straw was Christmas. My husband is the "Christmas person" in our family. I have not decorated a tree, the house, or our yard, since we met. That is his thing. One year, he was late decorating, and our friends call to ask if he was okay. Our neighbors started to worry. That is how serious it was at our house. Well, this year, the pandemic won. Not a single decoration. Not even a wreath on the door until my son put it up.

So, even though the pandemic is still raging, I will adopt a fresh approach to combat the Grinch that is COVID-19. As much as things can be normal or the new normal, that is what I am going to do.

I'm reading for fun for the first time in many years, and I have bi-weekly book discussions with my book buddy. I enjoy discussing the book and the way she sees things. Even if I see them differently.

Although there is no in-person networking, I can bounce new ideas off the people in my very learned group of fellow business owners. I know some very bright people. I retooled my website in 2020, with their help.

Last, but not least, I can pretend that I am going to try to be more patient with myself and others. This will be the hard one. I make this pledge every year, pandemic or not. Sometimes, I am actually successful.